The documentary film 'Love to Love You, Donna Summer' following the life and career of Donna Summer first premiered at the Berlin International Film Festival earlier this year, prior to its release on (HBO) Max and Sky this month. The 107-minute film opens with footage of Donna Summer moaning while recording one of her biggest hits 'Love to Love You.'
"I have a secret life, you're looking at me but what you see is not what I am," Donna says at the beginning of the documentary, confirming that people don't really know her despite her being a renowned public figure. 'Love to Love You, Donna Summer' changes this by revealing those parts of Donna that many had never seen before. Brooklyn Sudano, the singer's daughter who co-directed the documentary with Academy Award winner Roger Ross Williams, spoke to many of her family members, relatives, and people who knew Donna, seeking to learn the many facets of her mom.
The documentary features clips of Donna, home videos, and interviews that help viewers know the singer-songwriter better. Despite being known and adored by millions of people around the world, Donna was a private person who struggled with her fame, much like other well-known figures we know of.
"We were never allowed in her room. The door was always locked. We would find out things by reading newspaper articles they had clipped out and hidden in places," revealed her youngest daughter, Amanda Sudano.
Did you know that Summer wrote 'Love to Love You Baby' for another singer but ended up recording it herself as an actor? "I approach it as an actress," Summer said about recording music via archival footage. This song was extended to about 17 minutes and was also banned by the BBC.
Besides singing, performing, and enjoying painting, Donna was studying to be a director. In an interview with Johnny Carson, she told the TV host that she had a video studio set up at home. We also see clips of Donna singing 'She Works Hard For The Money' with her kids by her side, singing and dancing to 'Winter Wonderland' with her family, and even singing by the piano!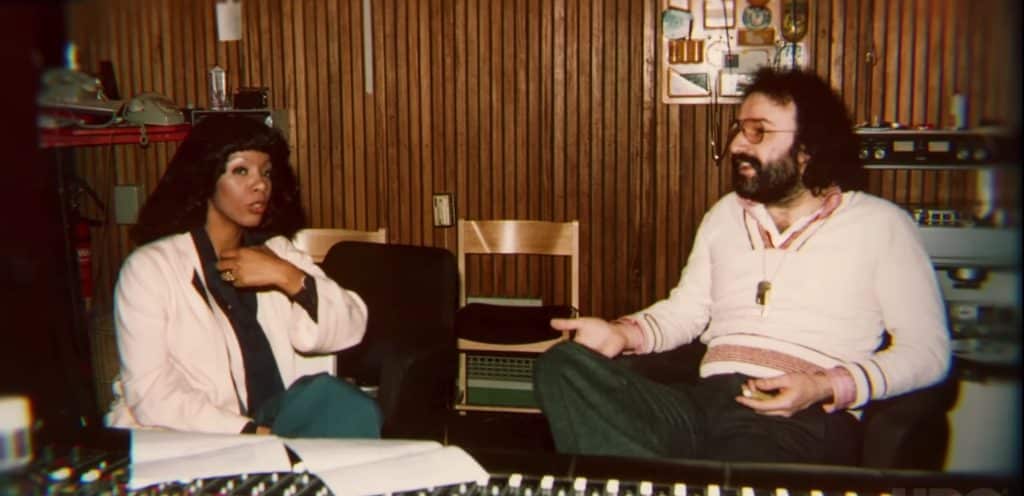 The Grammy-winning singer was born in Boston but moved to NYC to pursue a career in music and had to leave for Germany after getting a part in 'Hair.' She felt great there and even met her first husband, Helmuth Sommer, with whom she had her oldest daughter, Mimi. Donna returned to the US, and thanks to her hit 'Love to Love You,' she was only getting more and more popular. However, fame also had its downside for Donna.
The movie delves into the afflictions faced by Donna, revealing her sexual abuse at the hands of a pastor as a child, her abusive ex, her struggle with fame, and her rampant suicidal thoughts. And while the documentary underlines the underappreciated artist's achievements, it also takes viewers back to a controversial part of her life. After becoming a born-again Christian, Donna made a "God made Adam and Eve, not Adam and Steve," comment onstage, which upset her queer fans.
As time went by, Donna began spending more time with her family before dying of lung cancer at the age of 63. Her daughters also revealed how vulnerable she was at the time.
'Love to Love You, Donna Summer' does an outstanding job in highlighting Donna's artistry, talents, and skills of not singing beautifully but also putting on an unforgettable show for the audience. She was the first black female artist to have a video ('She Works Hard For The Money') on MTV. Donna Summer, stage name of Donna Adrian Gaines, was also one of the first few Black women to grace the cover of Rolling Stone. The documentary is mainly filled with archival footage, but we do see Brooklyn (her daughter) and her family briefly when she speaks to them about her mom.
All in all, Donna Summers' documentary is an interesting watch, giving fans a deeper look into the life, career, and struggles of the 'Queen of Disco,' who touched the lives of many with her music. It also gives viewers a chance to see how Summer shot to stardom because of her talent. The 1-hour 45-minute film puts an emphasis on how talented the star was and how she put her heart and soul into what she did. 'Love to Love You, Donna Summer,' directed by her daughter Brooklyn Sudano and Roger Ross Williams, the first African American director to win an Oscar, is now streaming on HBO Max. 
You May Also Like: